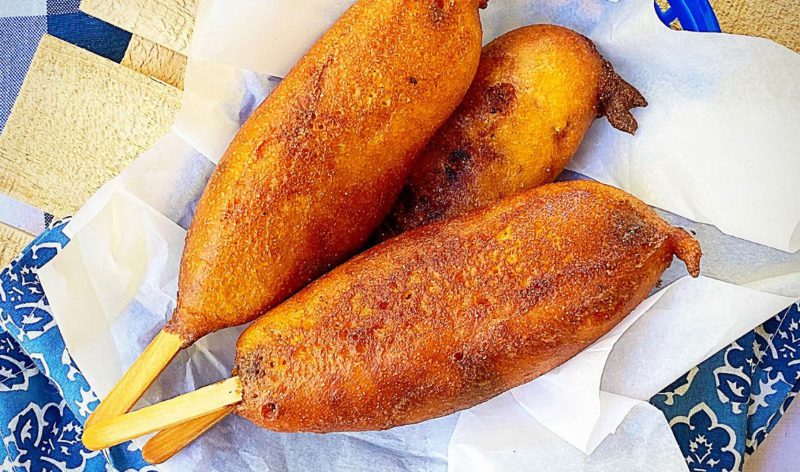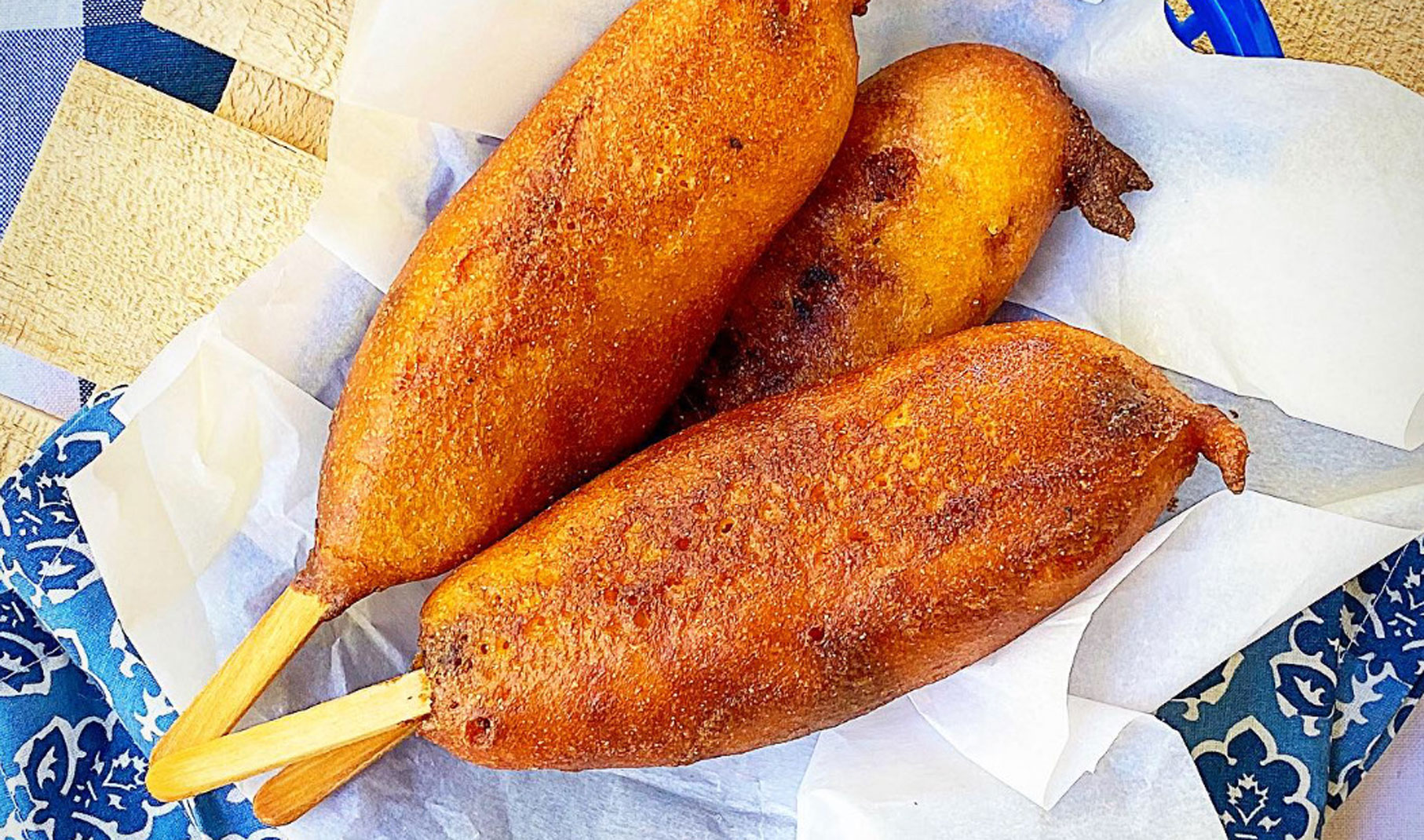 We love love love going to carnivals, festivals and fairs, and you probably already guessed that it's in large part because of the foods we can only get there! Felix and I are huge Disneyland fans, and one of our favorite things to eat there is the classic corn dog. If you've ever had the Disneyland corn dogs, you know that they are big, crispy and crazy good. This is our version, created because our summer plans can't include a trip to see Mickey and friends this year. Oh well, we can always dream and make some tasty eats to keep us smiling and happy until we're able to go again.
Making the corn dogs
Here are some tips for making these quickly and without much of a mess: We found that using a tall glass filled with the wet batter to dunk the hot dogs into is the best way to get complete and even coverage – and don't skip the dusting of corn starch first! This helps the batter adhere and not slip off the dog. The amount of oil we recommend may seem like a lot, but you really need a fairly deep well of oil for the corn dogs to fry evenly. You can strain the oil and let it cool, to be used for frying again (it will take on some of the flavor of the batter, so use it for similar foods like French fries, etc.). Also note that the oil needs to be at 350° in order to cook the batter on contact, so use a deep fat fryer or heavy pot with a fryer thermometer. Or simply drop a spoonful of batter into the hot oil and see if it immediately bubbles and cooks to a golden brown in a few minutes without scorching. (You may need to adjust the heat during cooking once or twice if the oil cools a bit or starts to get too hot.)
The great thing is that these cook in about 3 minutes, so just have everything ready to go next to the hot oil and drop them in a few at a time. Avoid overcrowding the pot, as they need a bit of room between each one to keep them from sticking together. Have fun with this recipe, and may you be whisked away to the happiest place on earth as you enjoy them!
Carnival Corn Dogs
SERVES
8
DIFFICULTY
Moderate
PREP TIME
20 min
COOK TIME
3 min per batch
SPECIAL TOOLS
Deep fryer or heavy-bottomed pot
DIET: None
Carnival Corn Dogs
SERVES: 8
DIFFICULTY: Moderate
PREP TIME: 20 min
CHILL TIME: 3 min per batch
SPECIAL TOOLS: Deep fryer or heavy-bottomed pot
DIET: None
Ingredients
Batter
1 c all-purpose flour
1 c fine cornmeal
1 ½ T sugar
2 t baking powder
¼ t salt
¼ t seasoning salt (Lawry's or similar)
¼ t paprika
1 c buttermilk
1 lg egg
2 T honey
2 T vegetable oil
Additional:
8 hot dogs
8 popsicle sticks
¼ c corn starch
6 c vegetable oil for frying
Instructions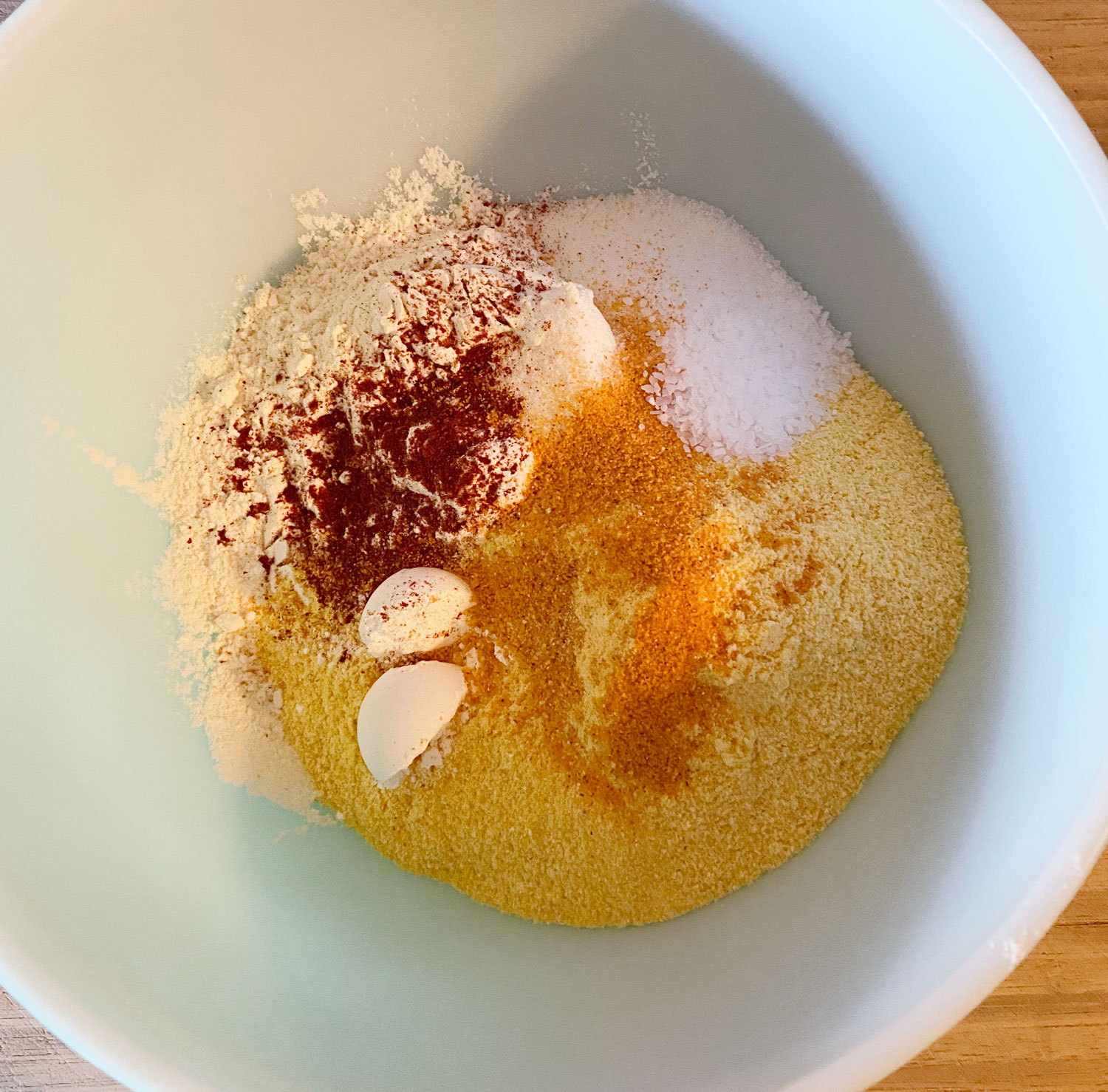 Combine dry ingredients (flour, cornmeal, sugar, baking powder, salt, seasoning salt and paprika).
Whisk wet ingredients into dry ingredients until thoroughly blended.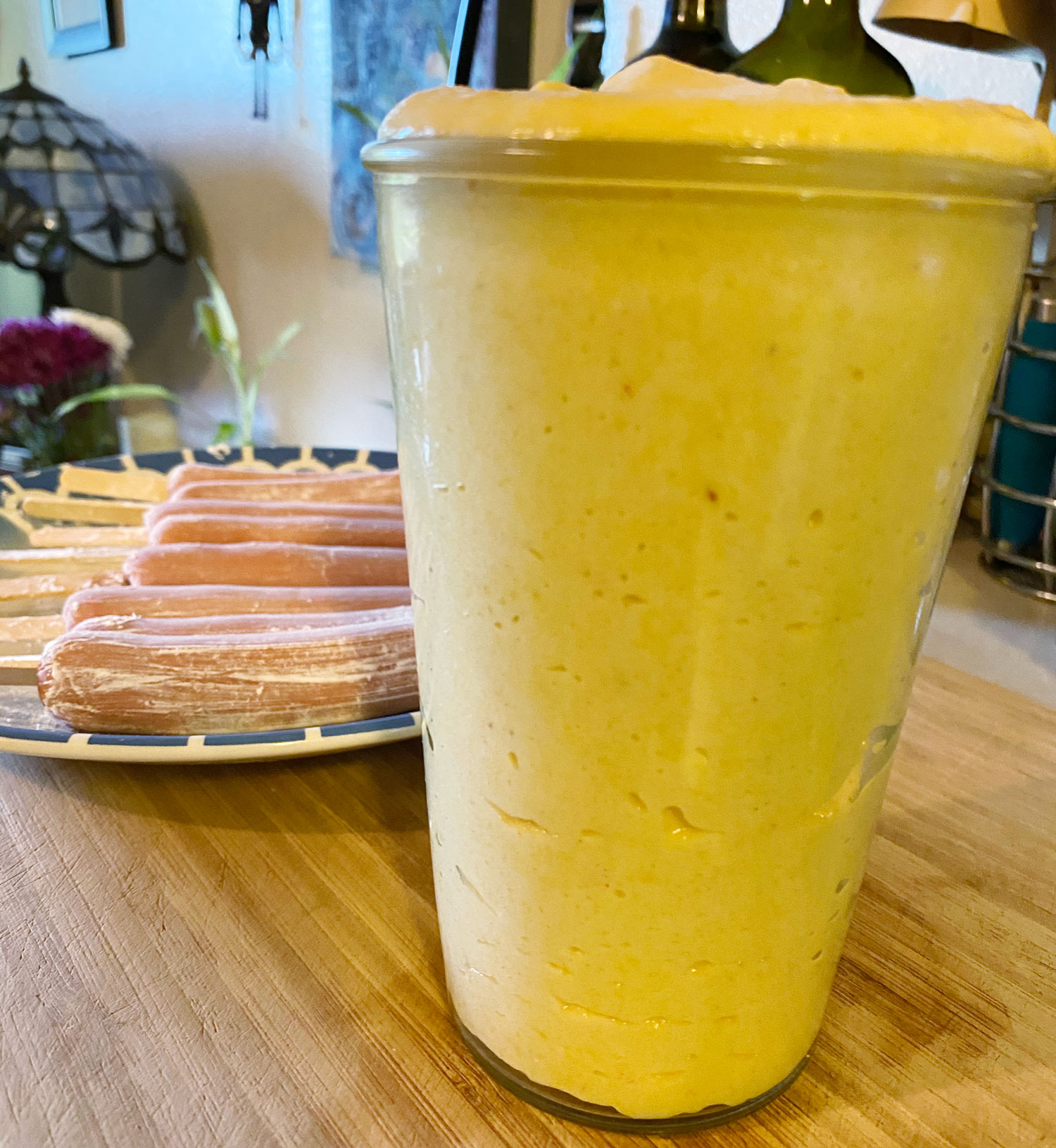 Pour batter into tall drinking glass, full enough to completely cover hot dogs when dunked but not so full that the batter pours out when dunking.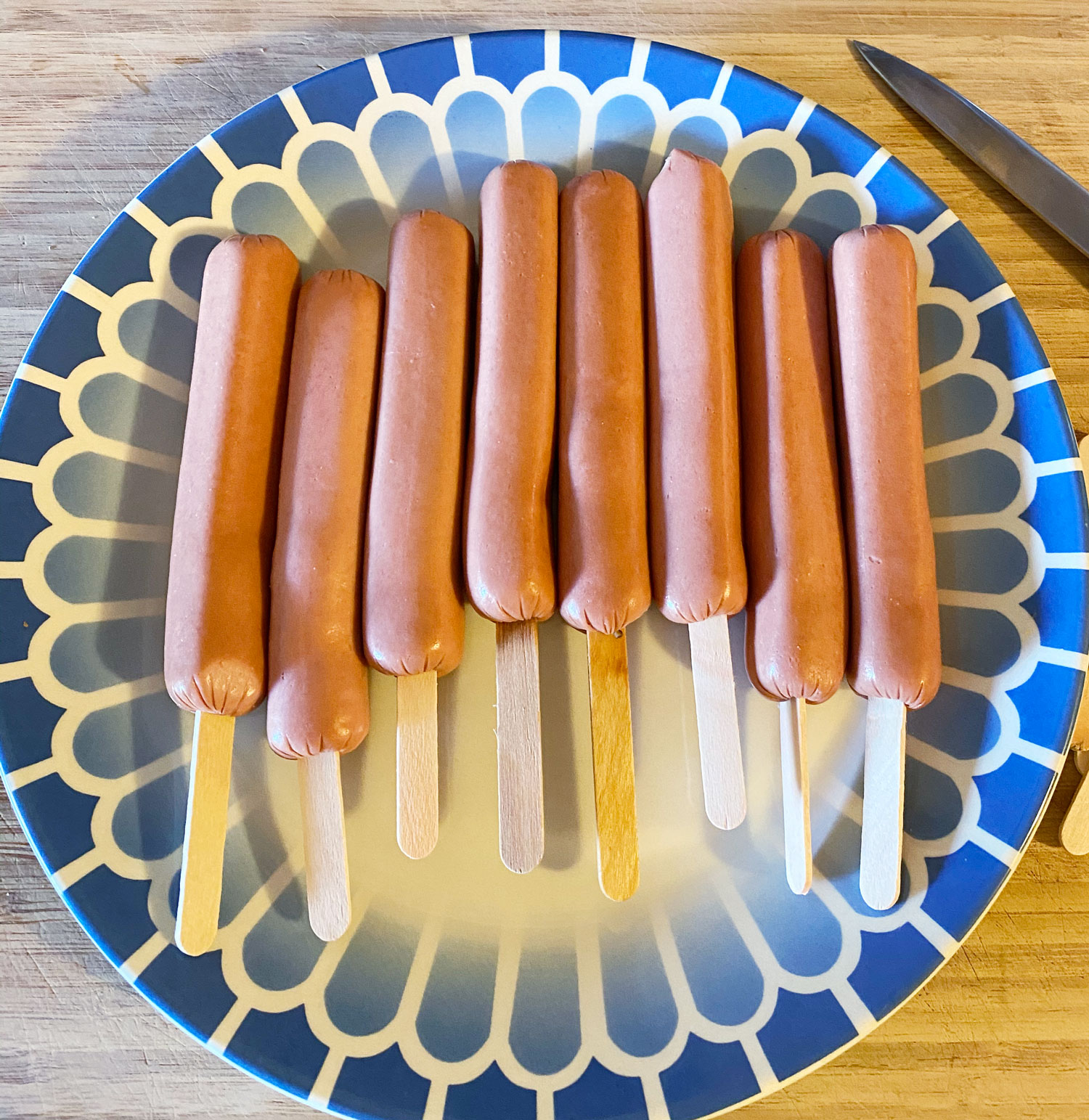 Slip hot dogs onto popsicle sticks about halfway, leaving 2" or so for a handle.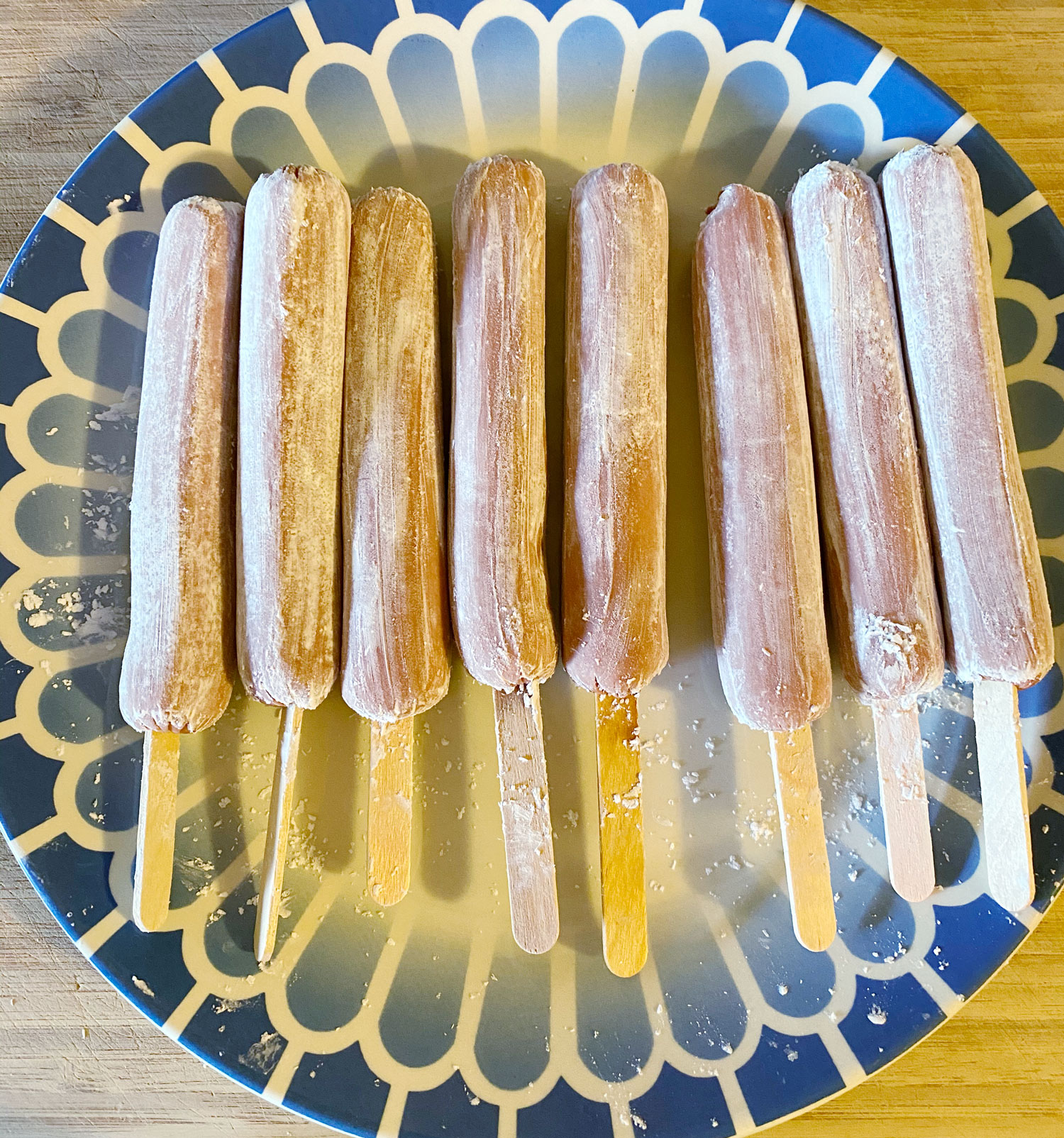 Roll hot dogs in corn starch, dusting evenly and well, then dip into batter, immediately dropping into heated vegetable oil at 350°. Repeat with remaining corn dogs, cooking 2 at a time, avoiding overcrowding.
Turn with tongs often and remove once they become a deep golden brown on all sides and crust is crisp. Drain onto paper towels and serve immediately with plenty of ketchup and mustard!
Meet the Makers
Felix & Greg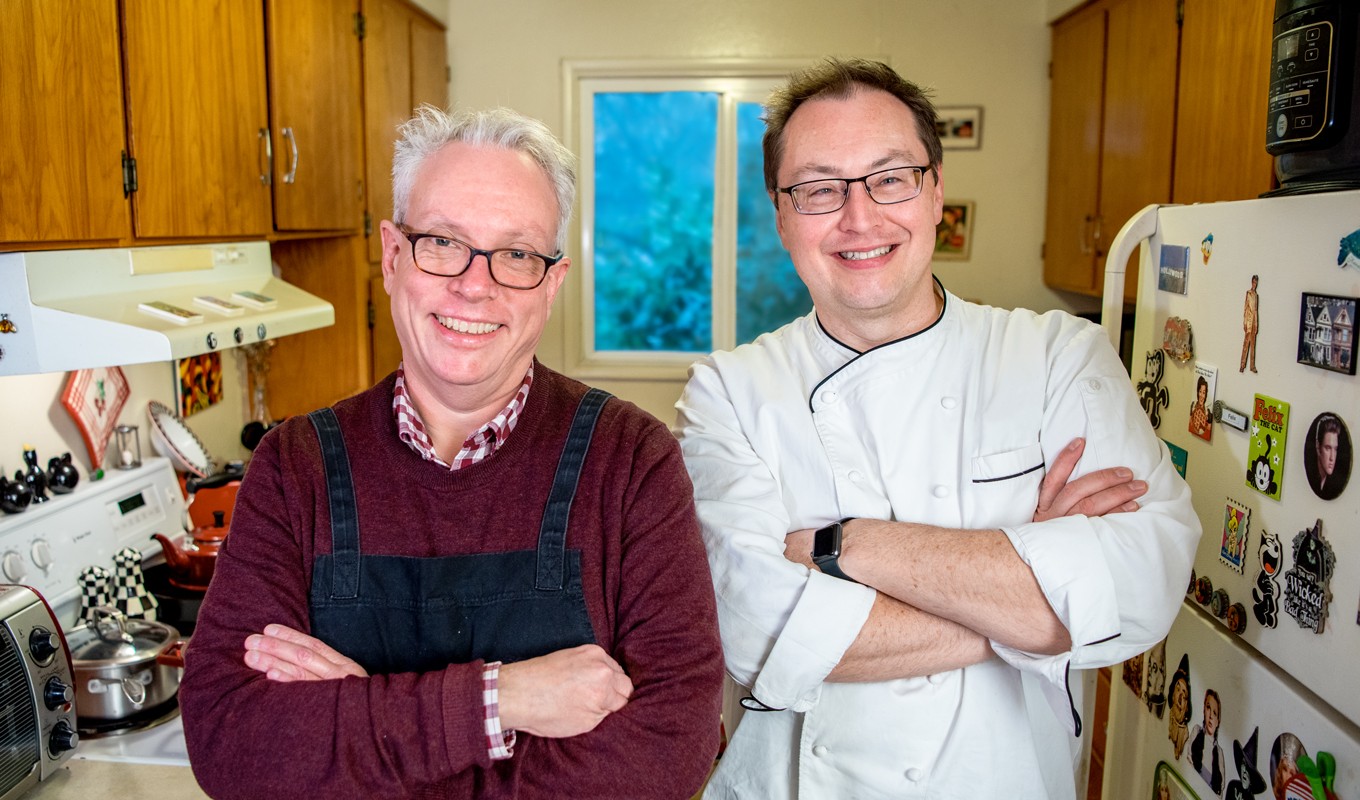 FELIX HUCK
Recipe Creator & Food Photographer
An artist and shutterbug, Felix finds beauty and inspiration in food and nature. He invents and photographs the recipes you'll find here.
GREG CABEZA
Professional Chef & Food Blogger
A food aficionado and lifelong music fan, Greg is an experienced artisan chef. He's also co-recipe creator and food blogger at Felix & Greg.
SUBSCRIBE TO OUR EMAILS
Good ideas could be cooking in your inbox. Sign up for our newsletter.