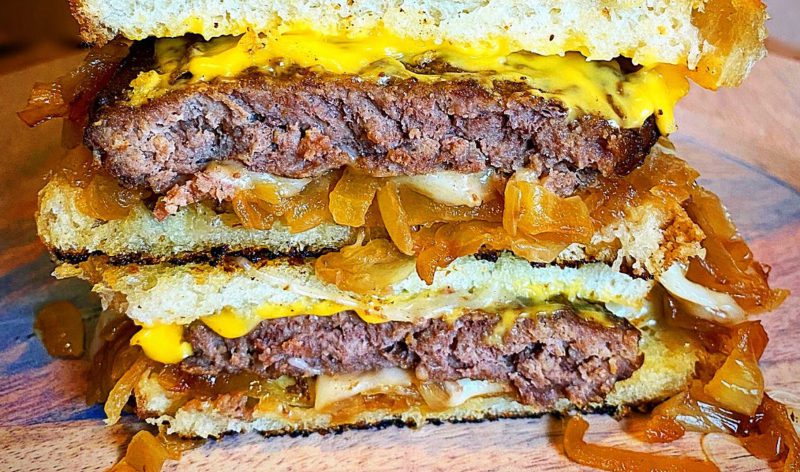 Felix and I are always game for a good patty melt. We love the classic flavors of slow-cooked onions, lots of good old-fashioned yellow mustard, toasted bread and a seared burger with loads of melted cheese! The diners we loved as teens have mostly disappeared, so we've taken it upon ourselves to throw some Elvis tunes on, get some friends together, have a Cherry Coke, and recreate some of those favorite diner foods, beginning with this recipe.
Choosing the ingredients
It's super simple: just start with some good ground beef, lots of onions (once caramelized, they shrink down quite a bit), and tasty, melty Swiss cheese. We mean it when we say don't skimp on the quality of the cheese. There are many cheap 'Swiss' cheeses out there that don't melt well, have little flavor, and leave a lot to be desired. We suggest using Emmental or something similar. If you don't have that, go for a sharp white cheddar, or better yet – Gruyere!
Caramelizing the onions
The real star of the show here is the onions. Don't rush these, as true caramelized onions take time for the cell walls to break down and release the natural sugars, giving the onions the deep color and flavor that you want. Mmmmmm … I'm making myself really hungry just typing that. Felix makes amazing caramelized onions, as he knows the reward at the end is well worth some patience and careful cooking. Simply let the onions cook slowly over medium heat, stirring every five minutes or so for about half an hour until they look and smell amazing (you'll know when, trust us, you just will). Then, cook the patties in the same skillet to pick up any of that onion flavor and you are moments away from heaven!
We like to serve these on a high-quality rustic artisan bread with plenty of mustard, and that's it! I do like a bit of mayonnaise with mine, but on the side is just fine. Serve the patty melts with chips and a pickle, or maybe oven fries or tater tots, and let the good times roll.
Caramelized Onion Patty Melts Recipe
SERVES
4
DIFFICULTY
Easy
PREP TIME
10 min
COOK TIME
30 min (onions) 6 min (burgers)
SPECIAL TOOLS
Large skillet
DIET: GF (if using GF bread), Keto (if using Keto bread)
Caramelized Onion Patty Melts Recipe
SERVES: 4
DIFFICULTY: Easy
PREP TIME: 10 min
COOK TIME: 30 min (onions) 6 min (burgers)
SPECIAL TOOLS: Large skillet
DIET: GF (if using GF bread), Keto (if using Keto bread)
Ingredients
3 T + 3 T butter
2 lg yellow onions, sliced
salt and pepper
1 ½ lb ground beef, 20% fat (or 15% if needed)
8 slices Swiss cheese
8 slices artisan sandwich bread
4 oz yellow mustard
Instructions
Toast bread, so that it is ready. Heat 3 T butter in large skillet. Add onions and cook over high heat for 2 min. Reduce heat to medium and stir onions well; season lightly with salt and pepper. Cook slowly, stirring every 5 min or so, until onions are deep golden brown and completely soft, approx. 30 min. Remove onions and reserve. Meanwhile, divide beef into four portions (six ounces each). Shape quickly into patties, without overheating or overworking meat. Place remaining 3 T butter into the same skillet and melt over medium heat. Season beef generously with salt and pepper and cook in heated butter in skillet, turning once after 3 min. Continue cooking another 3 min, until patties reach desired internal temp, 145° for medium. Place cheese over patties and cover briefly to melt, keeping an eye on them. Add cooked patty with cheese, topping with mustard and dividing caramelized onions among them. Serve immediately with chips or fries, pickles and cold drinks.
Meet the Makers
Felix & Greg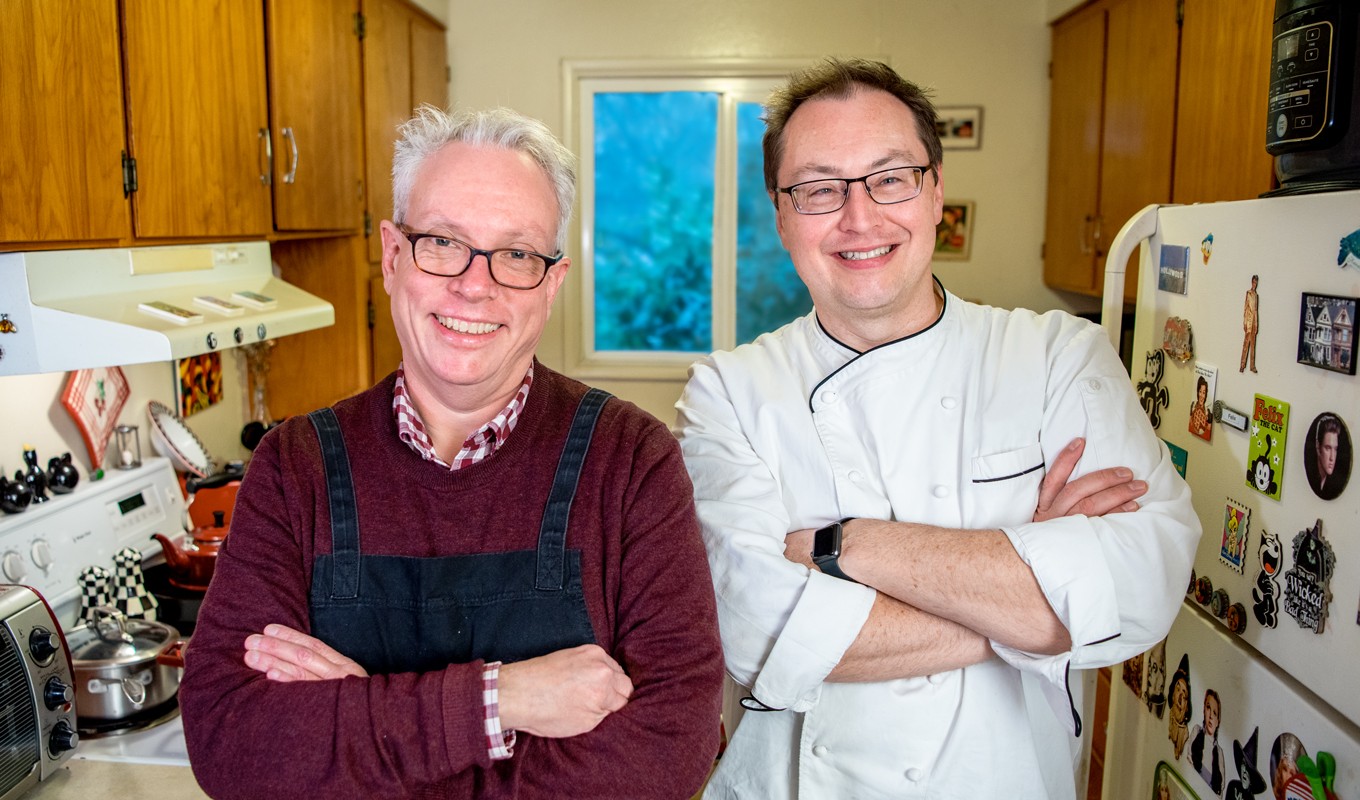 FELIX HUCK
Recipe Creator & Food Photographer
An artist and shutterbug, Felix finds beauty and inspiration in food and nature. He invents and photographs the recipes you'll find here.
GREG CABEZA
Professional Chef & Food Blogger
A food aficionado and lifelong music fan, Greg is an experienced artisan chef. He's also co-recipe creator and food blogger at Felix & Greg.
SUBSCRIBE TO OUR EMAILS
Good ideas could be cooking in your inbox. Sign up for our newsletter.