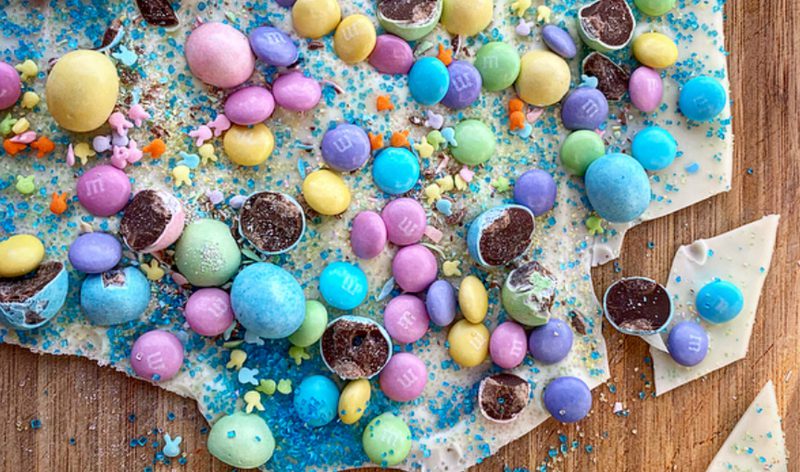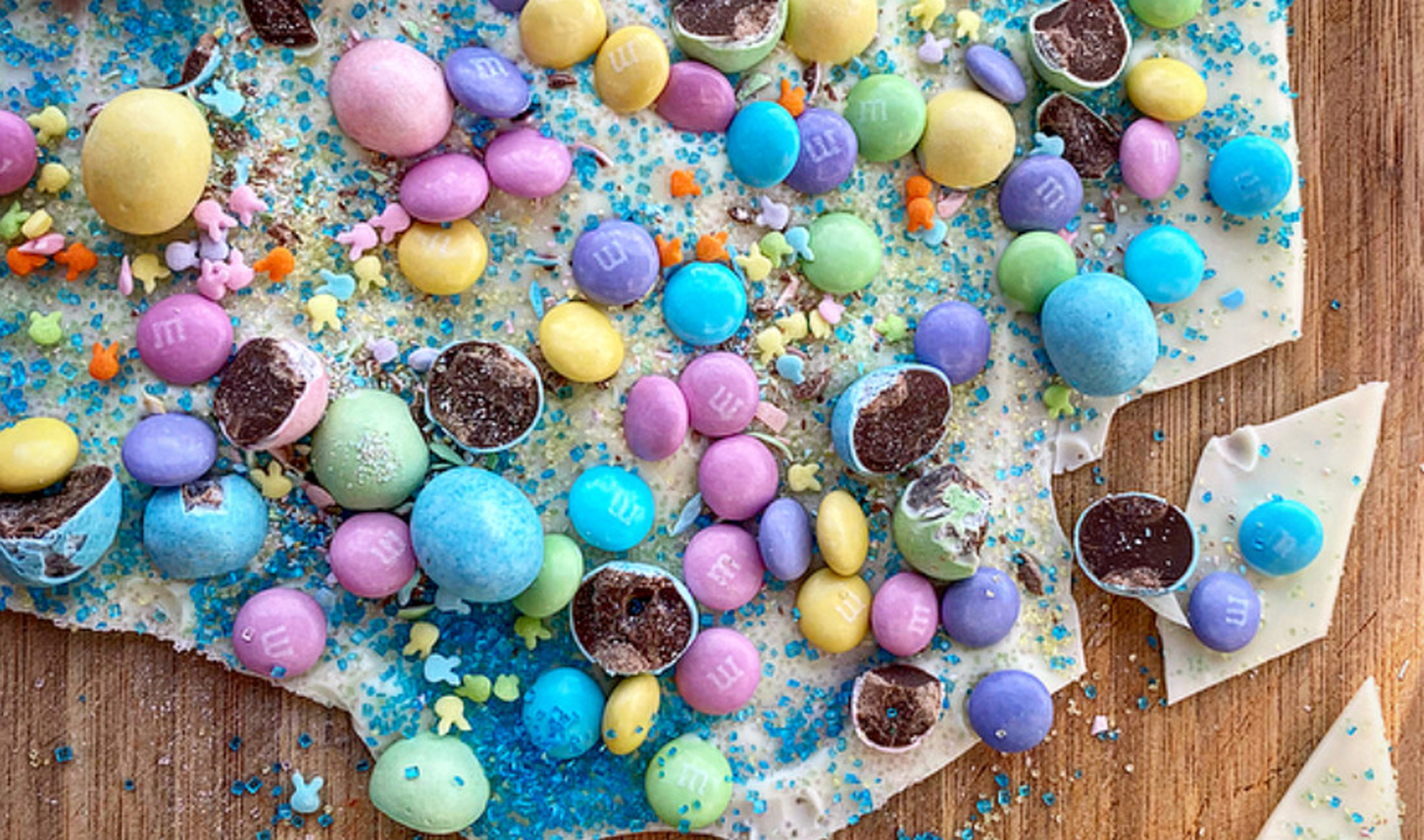 Felix introduced Bunny Bark to me a few years ago. How had I never known about this simple and fun recipe before? It's especially loved by the children in our families, and it's incredibly easy to make and adjust to cater to your little chicks' favorite flavors. Add a few crushed cookies, or try adding little bunny grahams or pretzels, as desired. We have made this version simple, with just candies and chocolate, topped with plenty of cute sprinkles. This makes super cute gifts for the holiday and can be made days in advance and tied up in sweet little packages, ready to pop into Easter baskets.
Bunny Bark Recipe
SERVES
6
DIFFICULTY
Easy
PREP TIME
10 min
COOK TIME
2 min
DIET: None
SERVES: 6
DIFFICULTY: Easy
PREP TIME: 10 min
COOK TIME: 2 min
DIET: None
Ingredients
10 oz white chocolate wafers
10 oz pkg candy-coated chocolate eggs
10 oz candy-coated milk chocolate eggs, cracked
Turquoise-colored (Easter) sprinkles
decorative Easter sprinkles (we used bunnies)
broken pretzels or cookies, optional
Instructions
Melt white chocolate in microwave in 30 second intervals, stirring between each round, 90 sec to 2 min, until melted and smooth. Pour melted chocolate over a cookie sheet, spreading into thin layer (1/8"). Crush half of the chocolate eggs and sprinkle candies over the chocolate, topping with decorative sprinkles. Also try adding broken pretzels or broken cookies to the bark, as desired. Chill at least 15 min. Break loose from pan and crack bunny bark into 2" rough pieces. Store in airtight container, in cool place.
Meet the Makers
Felix & Greg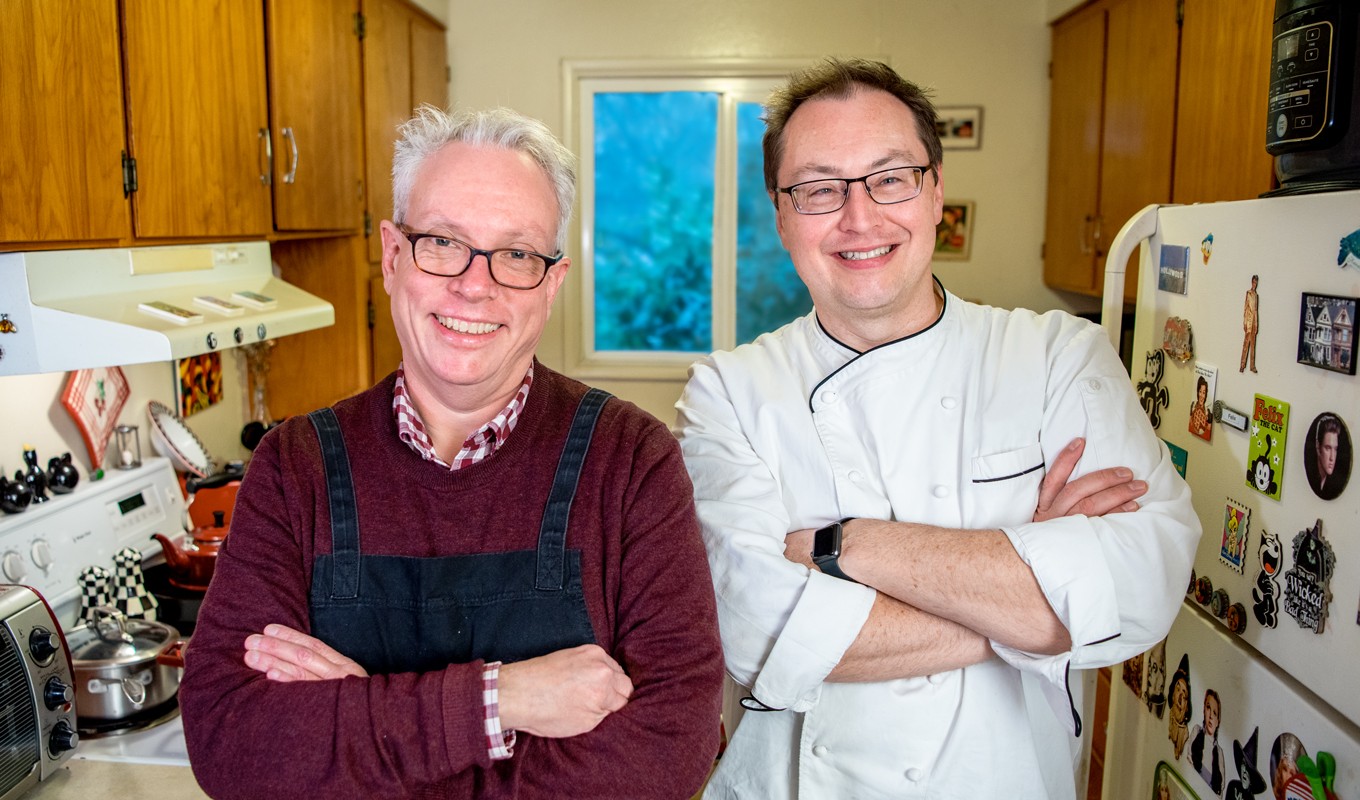 FELIX HUCK
Recipe Creator & Food Photographer
An artist and shutterbug, Felix finds beauty and inspiration in food and nature. He invents and photographs the recipes you'll find here.
GREG CABEZA
Professional Chef & Food Blogger
A food aficionado and lifelong music fan, Greg is an experienced artisan chef. He's also co-recipe creator and food blogger at Felix & Greg.
SUBSCRIBE TO OUR EMAILS
Good ideas could be cooking in your inbox. Sign up for our newsletter.