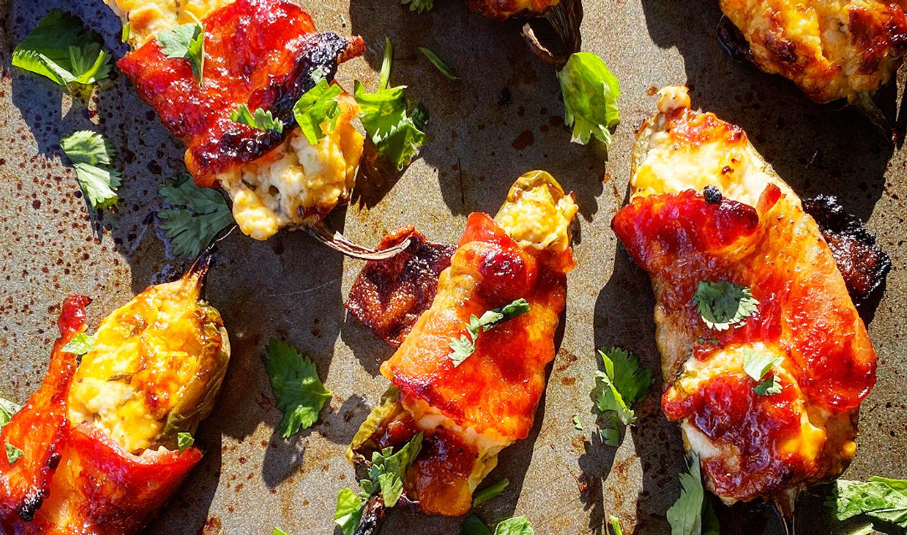 We love spicy, savory snacking foods, and our recipe for gluten-free and keto-friendly Bacon-Wrapped Jalapeño Poppers is just the ticket! These are super quick and easy to make at home for get togethers, game nights, or a simple, fast weeknight meal—just split fresh jalapeno peppers, add cream cheese mixture, wrap with bacon and bake! Make sure to use thin-cut bacon (the thinnest you can find!) and don't overlap it too much or it won't crisp up very well. We like our bacon crispy, not limp. Perfect for entertaining, these can be easily prepped ahead of time. Just pop them in a 400° oven for 20 minutes when you're ready, let them cool and serve with cold beers and plenty of chips and guacamole. We always make short work of eating these poppers—it's not at all a stretch to eat 4-6 of these per person, so plan accordingly and consider making a double batch! Check out our tips below for some other helpful hints.
How hot are these jalapeño poppers?
Usually, jalapeño peppers provide medium heat, but occasionally you'll come across some that are hotter than normal. To make them less spicy, make sure to remove all of the seeds. They often aren't very spicy in our opinion, but we love spicy foods and your heat tolerance might be different from ours. In general, once these are filled with cheeses, roasted and wrapped with crispy bacon, the heat level goes down dramatically in our experience. If you've ever roasted chilies, or any vegetable really, you'll know that the natural sweetness comes forward and helps to balance the flavor, and that's exactly what happens in this recipe.
Tip: Wear gloves when working with and handling fresh chilies and avoid touching any exposed skin. We have some hilarious (and some not-so-hilarious stories) of friends and coworkers who have not taken this warning to heart and paid the price after rubbing their eyes or face, just for a split second, but the damage was already done.
Bacon-Wrapped Jalapeño Poppers Recipe
SERVES
4-6
DIFFICULTY
Easy
PREP TIME
10 min
COOK TIME
5 min
SPECIAL TOOLS
Parchment paper
DIET: Keto, GF
Bacon-Wrapped Jalapeño Poppers Recipe
SERVES: 4-6
DIFFICULTY: Easy
PREP TIME: 10 min
COOK TIME: 5 min
SPECIAL TOOLS: Parchment paper
DIET: Keto, GF
Ingredients
16 oz cream cheese (2 bricks), room temp
1 c shredded cheddar
½ c shredded pepper jack
3 T cilantro, chopped
1 T hot sauce (optional), or chopped chipotles
pinch salt and pepper
12 jalapeños, split lengthwise, seeds removed
12 strips thin-sliced bacon, cut in half
Instructions
Preheat the oven to 400°. Combine cheeses, cilantro, hot sauce, salt and pepper. Stuff each jalapeño pepper generously with cheese mixture, approx. 2 T each. Wrap each pepper with a half slice of bacon, spiraling it around from top to bottom. Avoid overlapping to allow bacon to cook thoroughly. Bake on parchment-lined sheet pan 20-25 min until golden brown and bacon has crisped (peppers should be very soft and starting to char slightly). Remove from the oven and let cool a bit before plating and garnishing with plenty of cilantro and lime wedges. Serve warm or at room temp.
Meet the Makers
Felix & Greg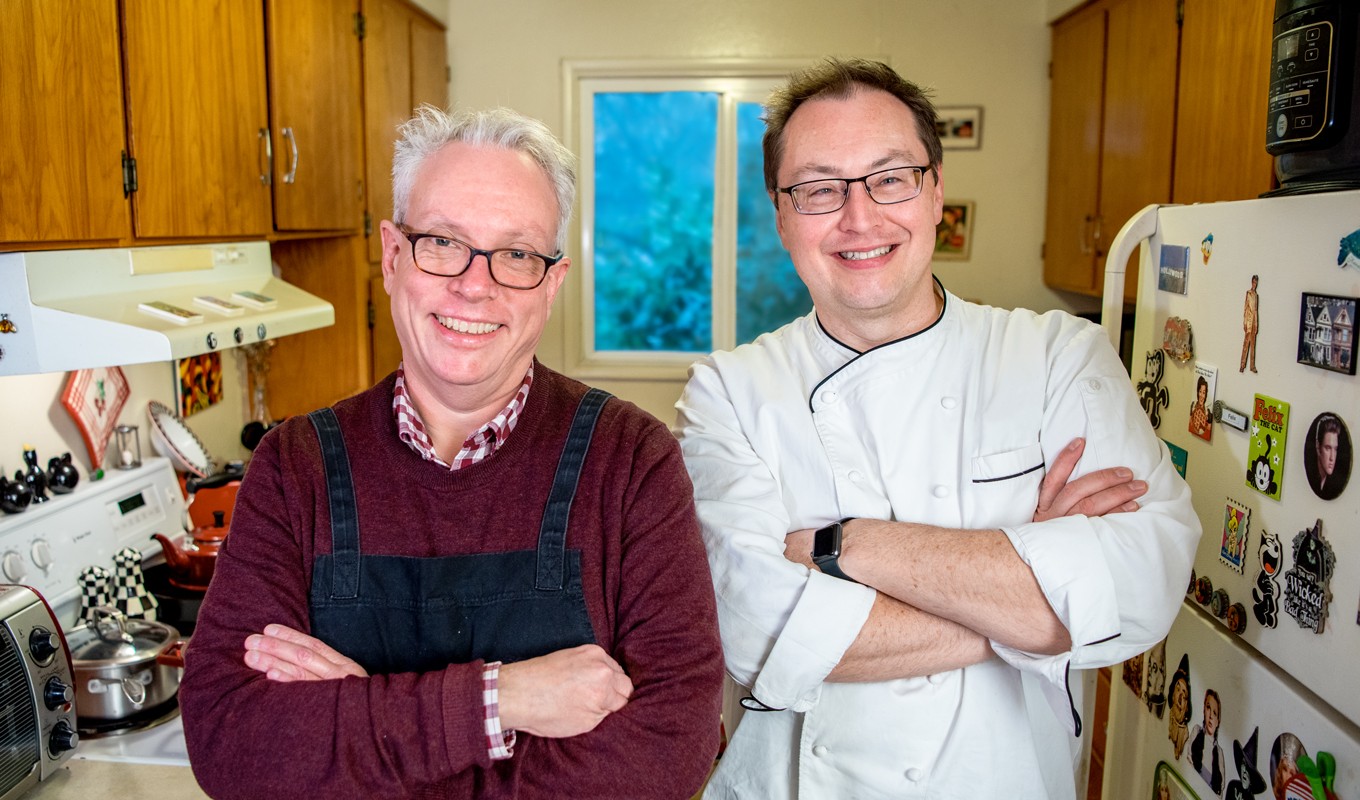 FELIX HUCK
Recipe Creator & Food Photographer
An artist and shutterbug, Felix finds beauty and inspiration in food and nature. He invents and photographs the recipes you'll find here.
GREG CABEZA
Professional Chef & Food Blogger
A food aficionado and lifelong music fan, Greg is an experienced artisan chef. He's also co-recipe creator and food blogger at Felix & Greg.
SUBSCRIBE TO OUR EMAILS
Good ideas could be cooking in your inbox. Sign up for our newsletter.